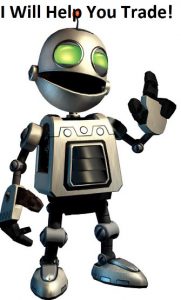 The Auto-Trade Assistant (ATA) is an algorithm designed to utilize the "auto-trade" capabilities available on various trading platforms that retail traders use every day. Ease of use coupled with robust performance, provides today's trader with a powerful execution tool, similar to those available to professional traders at Wall Street's largest investment banks and hedge funds.
Many traders today struggle to implement trading strategies effectively, as a result of increasing intra-day volatility, dominated by High Frequency Algorithmic Trading. Hesitation in "pulling the trigger" or Impulsive "chasing the trade" because of improperly timed execution of a robust trading strategy can have disastrous results on a trader's performance.
We have specifically designed the PTG ATA to execute Polaris' Signature Premium & Discount Trade Setup, a.k.a. CCI X-Over System. Also, built into the algorithm is a Position Sizer, which will properly manage initial trade risk based upon trader's preset parameters.
Exits are equally important to a trade's success as its Entry, so scaling out of a winning trade is accomplished at pre-determined levels marked as Risk-Free, T1, T2, T3 which are all based upon R-Values. Reaching the "risk-free" level is critical in mitigating overall trade risk, allowing the trader to focus attention on trade management. i.e. "letting the winners run". Trade Management features such as Auto-Breakeven and Auto-Trailing Stop will further enhance the trader's ability to extend winning trades.
PTG ATA Videos for Sierra Chart and NinjaTrader Platforms
Sierra Chart
NinjaTrader
NFA Compliance Rule 2-29(c)(1) Disclaimer:
HYPOTHETICAL PERFORMANCE RESULTS HAVE MANY INHERENT LIMITATIONS, SOME OF WHICH ARE DESCRIBED BELOW. NO REPRESENTATION IS BEING MADE THAT ANY ACCOUNT WILL OR IS LIKELY TO ACHIEVE PROFITS OR LOSSES SIMILAR TO THOSE SHOWN. IN FACT, THERE ARE FREQUENTLY SHARP DIFFERENCES BETWEEN HYPOTHETICAL PERFORMANCE RESULTS AND THE ACTUAL RESULTS SUBSEQUENTLY ACHIEVED BY ANY PARTICULAR TRADING PROGRAM.
ONE OF THE LIMITATIONS OF HYPOTHETICAL PERFORMANCE RESULTS IS THAT THEY ARE GENERALLY PREPARED WITH THE BENEFIT OF HINDSIGHT. IN ADDITION, HYPOTHETICAL TRADING DOES NOT INVOLVE FINANCIAL RISK, AND NO HYPOTHETICAL TRADING RECORD CAN COMPLETELY ACCOUNT FOR THE IMPACT OF FINANCIAL RISK IN ACTUAL TRADING. FOR EXAMPLE, THE ABILITY TO WITHSTAND LOSSES OR TO ADHERE TO A PARTICULAR TRADING PROGRAM IN SPITE OF TRADING LOSSES ARE MATERIAL POINTS WHICH CAN ALSO ADVERSELY AFFECT ACTUAL TRADING RESULTS. THERE ARE NUMEROUS OTHER FACTORS RELATED TO THE MARKETS IN GENERAL OR TO THE IMPLEMENTATION OF ANY SPECIFIC TRADING PROGRAM WHICH CANNOT BE FULLY ACCOUNTED FOR IN THE PREPARATION OF HYPOTHETICAL PERFORMANCE RESULTS AND ALL OF WHICH CAN ADVERSELY AFFECT ACTUAL TRADING RESULTS.