This live broadcast is designed as an Educational Presentation on one trader's journey in the TAKE PROFIT TRADER Trader Funding Combine, from evaluation stage through Live Funded Trading Account. REFERRAL CODE: PTGFUNDING
Focus will be on one of PTG's Automated Trading Strategies. It is fully automated and requires minimal trader input. Though it is recommended to continuously monitor its progress throughout the trading session.
Why are we conducting this Live Stream Broadcast?
No it's not about my EGO. It's about TRANSPARENCY in this world of futures trading, of which there is very little. Polaris Trading Group since inception (2013) has and continues to provide it's student traders with the highest quality education and trading tools to assist with trader development. So that YOU can become the best trader version of yourself possible.
Each of us is on our own personal trading journey, so with this in mind, this broadcast hopefully will inspire those that are struggling to "hang-in" and keep pressing forward. Should you feel the need for personal mentorship, PTG is here to help.
Simply send me an email to david@polaristradinggroup.com for a confidential conversation with yours truly. David D Dube' (a.k.a. PTGDavid)
Thank you and enjoy!
My #1 Trader Funding Company Choice.
TAKE PROFIT TRADER (TPT)
Broadcast Disclaimer: This broadcast is for EDUCATION ONLY and ABSOLUTELY NO CLAIM IS MADE, IMPLICITLY OR EXPLICITLY THAT THIS STRATEGY WILL PRODUCE PROFITABLE RESULTS.
TAKE PROFIT TRADER PRO ACCOUNT DASHBOARD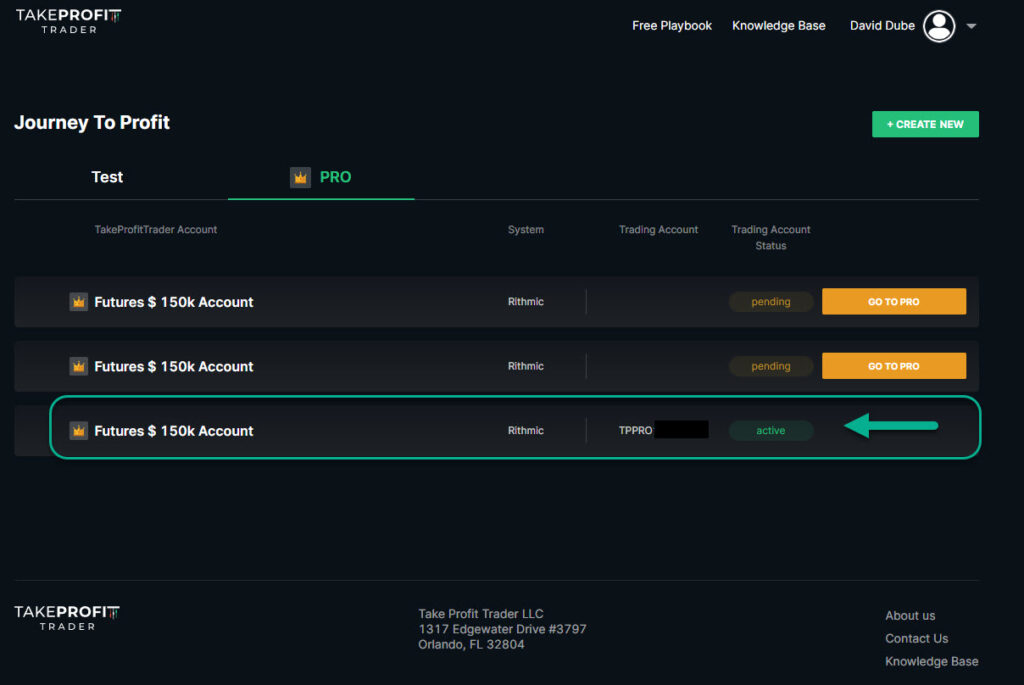 NFA Compliance Rule 2-29(c)(1) Disclaimer:
HYPOTHETICAL PERFORMANCE RESULTS HAVE MANY INHERENT LIMITATIONS, SOME OF WHICH ARE DESCRIBED BELOW. NO REPRESENTATION IS BEING MADE THAT ANY ACCOUNT WILL OR IS LIKELY TO ACHIEVE PROFITS OR LOSSES SIMILAR TO THOSE SHOWN. IN FACT, THERE ARE FREQUENTLY SHARP DIFFERENCES BETWEEN HYPOTHETICAL PERFORMANCE RESULTS AND THE ACTUAL RESULTS SUBSEQUENTLY ACHIEVED BY ANY PARTICULAR TRADING PROGRAM. ONE OF THE LIMITATIONS OF HYPOTHETICAL PERFORMANCE RESULTS IS THAT THEY ARE GENERALLY PREPARED WITH THE BENEFIT OF HINDSIGHT. IN ADDITION, HYPOTHETICAL TRADING DOES NOT INVOLVE FINANCIAL RISK, AND NO HYPOTHETICAL TRADING RECORD CAN COMPLETELY ACCOUNT FOR THE IMPACT OF FINANCIAL RISK IN ACTUAL TRADING. FOR EXAMPLE, THE ABILITY TO WITHSTAND LOSSES OR TO ADHERE TO A PARTICULAR TRADING PROGRAM IN SPITE OF TRADING LOSSES ARE MATERIAL POINTS WHICH CAN ALSO ADVERSELY AFFECT ACTUAL TRADING RESULTS. THERE ARE NUMEROUS OTHER FACTORS RELATED TO THE MARKETS IN GENERAL OR TO THE IMPLEMENTATION OF ANY SPECIFIC TRADING PROGRAM WHICH CANNOT BE FULLY ACCOUNTED FOR IN THE PREPARATION OF HYPOTHETICAL PERFORMANCE RESULTS AND ALL OF WHICH CAN ADVERSELY AFFECT ACTUAL TRADING RESULTS.