We are excited to announce that Polaris Trading Group (PTG) has received the 16th Global Trade Titan Award by internationally recognized, Emergent Expert and Trading Consultant Dr. Dean Handley, PhD, MBA, JD.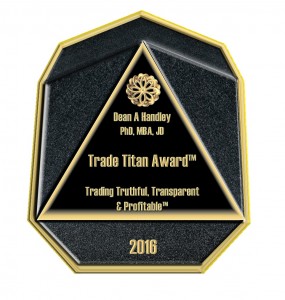 Dr. Handley has personally evaluated over 1082 trade rooms over 6.8 years and has found only 16 (PTG being named 16th) that meet his strict criteria of Truthfulness, Transparency, and Profitability. He has published over 50 papers in the field of futures trading, best attributes for room selection and methods and strategies to trade futures
Here is excerpt from Dr. Handley's evaluation in Futures Truth Magazine: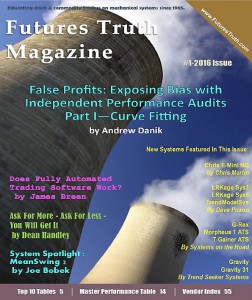 Polaris Trading Group, David Dube; Founder & Head Trader; CL, ES: 9:30 am ~4:00 pm EDT
"From M Kessler's recommendation, I began my 3 month real-time review of this room on 11.25.2015. I first looked at the historical track record and found it detailed-showing trade by trade, 1 contract/trade, over 5 months. Extrapolating net profits to 12 months at 3 contracts/trade, it was in great excess of my required $50K/year with good daily trade rates. I then petitioned for an opportunity to review this room for trading transparency so that I could verify that trades called were transparent that I could see, understand and replicate as called.
I found head trader David Dube (30 yr. financial market veteran-Lehman Brothers; UBS as Head Trader in biotechnology and software stocks) very pleasant, relaxed and sincere in his trading, admixing trading mentorship, expert interpretations and insightful thinking in of market dynamics and daily trading. 
His trading incorporates several disciplines (market profile, price action, statistical volume analysis) which can be taught in an easy to learn format. Trade calls and executions were 100% transparent and clearly showed intended entries before trades were filled. While trading both CL and ES greatly exceeded a net of >$50K/yr., David exhibited an average P/L for CL that is one of the very best in the industry. And both indices can be traded using his Auto-Trade Assistant that uses a CCI X-Over System with reliable execution and clarity."
"I am honored to have Polaris Trading Group (PTG) named the 16th Global Trade Titan by Dr. Dean Handley. My Five-Point Mission from Day 1 has been…"
Provide the highest institutional quality trading education for our members
Help traders "unlearn" bad trading habits and form new empowering ones so that they learn to become consistent profitable traders
Provide professional grade analytical software and institutional trading strategies so the average retail trader can confidently trade along-side the professional "big money" traders
Demystify market action that enables the uninformed retail trader to become an "informed" trader
Empower each student to become a self-reliant, confident and consistent trader
"The real benefits accrue to Polaris Members who are dedicated individuals from all walks of life seeking knowledge, to become the very best traders and it is a real gift for me to be able to convey my 30 years of trading knowledge that I learned from Wall Street Investment Banks and Trading Firms."
Thank You and Good Trading…David