Yesterday was Cycle Day 2 (CD2) with expectation was for "back n fill" price action outlined in prior DTS 03.05.15. Scenario 2 was in-play as price pulled back and found support at 2093.50, four-ticks above lower projected target of 2092.50.
Quiet overnight trade ahead of NFP Employment Report due for release at 8:30 ET. Analysts expect the data from the Bureau of Labor Statistics to show 230K jobs were created in February versus 257K reported in the prior period and 188K a year ago.
Today is Cycle Day 3 (CD3)…Cycle target of 2107 was nearly reached in prior day action, but was held back with sellers responding to buyers at the 3-Day Central Pivot Zone 2103.The NFP number today may act as catalyst for next directional price move.
Odds of 3D Rally > 10 = 82%; Odds of 3D rally > 20 = 54%; Average Range on CD3 = 17.75; Max Average Range = 21.50; There is a 45% chance of making a high above PDH (2103.50) targeting 2108, then 2110 – 2112 zone. There is a 55% chance of making a low below PDL (2093.25) down to 2088.50 based upon average violation of prior day low.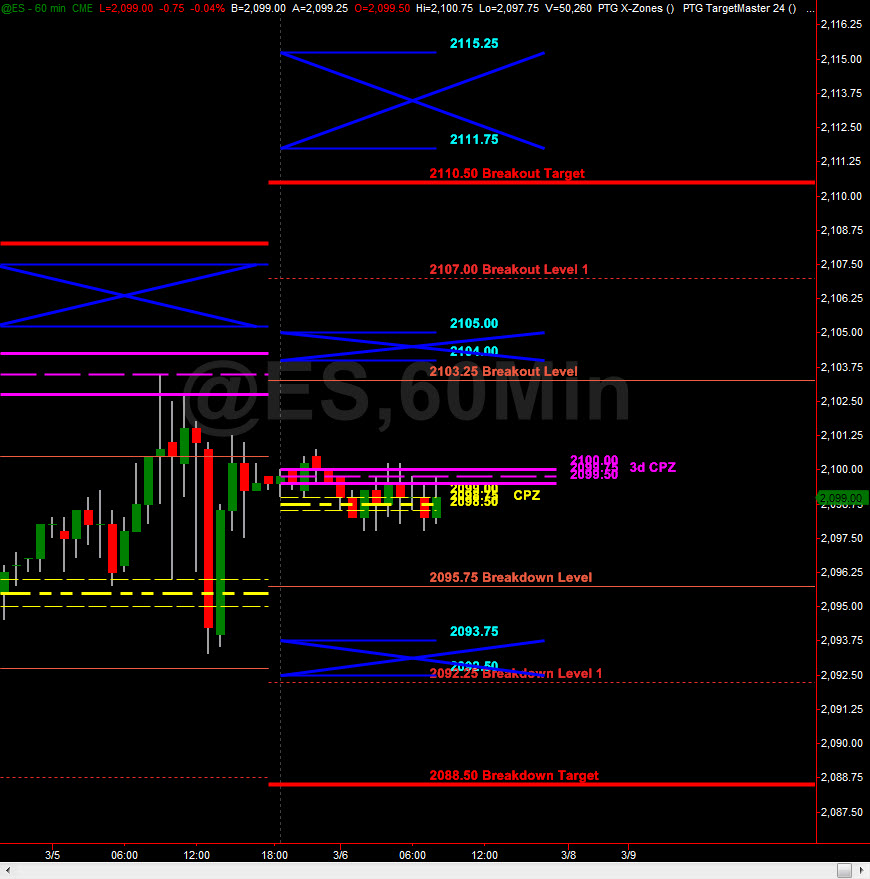 Today's Hypotheses:
Scenario 1: IF price can clear and convert PDH (2103.50), THEN there is a 45% chance of extending to 2108 handle..Above this level targets 2110 – 2112 cycle range target.
Scenario 2: IF price violates PDL (2093.50), THEN there is a 55% chance of extending lower to 2091 handle, down to TargetMaster Range Breakdown Level 2088.50.
Trade Strategy: Our tactical trade strategy will simply remain unaltered…We'll be flexible to trade both long and short side from Decision Pivot Levels. Continue to focus on Bull/Bear Stackers and Premium/Discounts. As always, remaining in alignment with dominant intra-day force increases probabilities of producing winning trades.
Stay Focused…Non-Biased…Disciplined  ALWAYS USE STOPS!
Good Trading…David
Habitude Six
I am at peace with uncertainty. I know there is no such thing as a sure thing. I have no particular need to be right. I understand that being perfect has no place in trading. I am flexible. I am willing to change my mind. I am alert to scenario changes. I accept the information that tells me I am on the right track or on the wrong track.