Strong NFP Report sent both Bonds and Equities sharply lower on Friday as investor/traders expectations have now increased of an imminent interest rate hike beginning June. Whether that actually occurs we'll all have to wait and see…Until then, investors sell first and evaluate later…That is what happened in previous trade session.
Price settled just off a Key Decision Level at 2066 handle…Further deterioration in price below this level would likely force long-liquidation…In overnight trade price is holding above the 2066 handle and is current trading 2071 in an attempted bounce.
Today begins a New Cycle day 1 (CD1)…Better part of anticipated decline on CD1 from the high of CD3 has already been exceeded…What this means is that a rally off current low 2065.50 could begin at any time. Violation of PDL (2065.50) as stated could result in additional selling.
Odds of Decline > 10 = 71%; Odds of Decline > 20 = 41%; Average Range on CD1 = 18.75; Max Average Range = 22.00; Possible High = 2087.50 based upon mac average range on CD1; Possible Low = 2054.50 based upon average violation of CD3 low.
***Note: The odds highlighted are NOT predictions or trade recommendations, rather a guide based upon historical observed occurrences.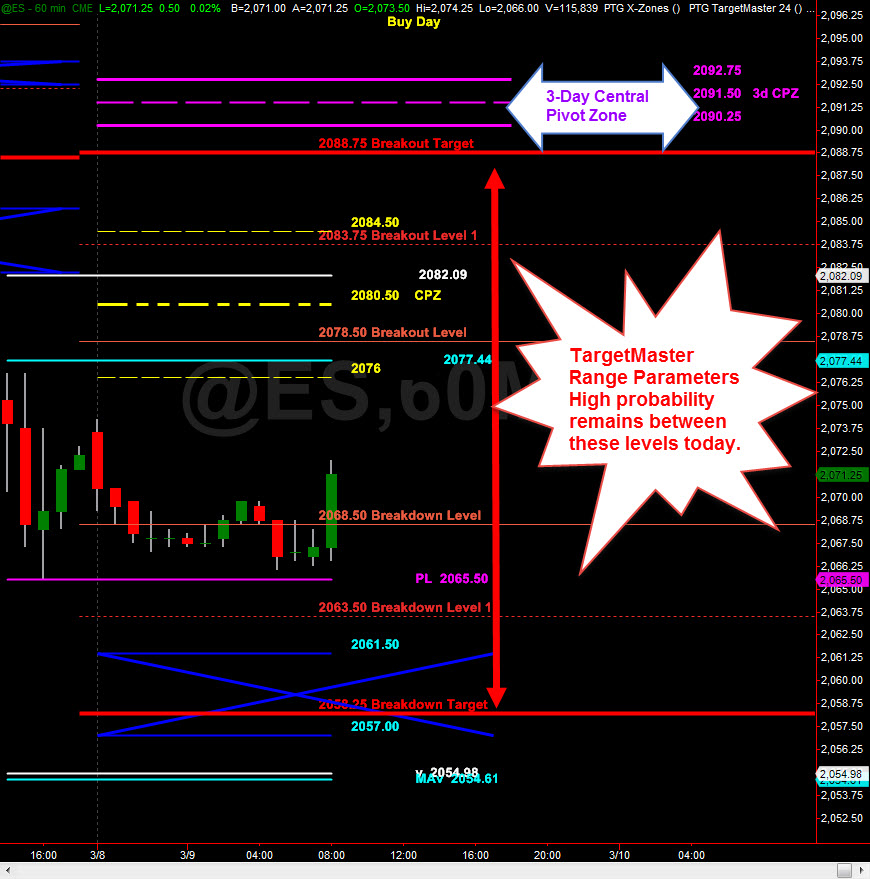 Today's Hypotheses:
Scenario 1: IF price remains above PDL (2065.50) during Pit Session, THEN there is a 55% chance of rallying up to 2076.50 – 2078.50 zone. Should price reach this zone and continue to exhibit strong buying tendencies, upside projection to 2084.50 is likely based upon Average Cycle Rally from CD3 Low. TargetMaster Range Breakout Target measures 2088.75.
Scenario 2: Violation of PDL (2065.50) potentially force long-liquidation which would target TargetMaster Range Breakdown Level 2058.25 with 2054.50 being the Average Violation target below CD3 Low.
Trade Strategy: Our tactical trade strategy will simply remain unaltered…We'll be flexible to trade both long and short side from Decision Pivot Levels. Continue to focus on Bull/Bear Stackers and Premium/Discounts. As always, remaining in alignment with dominant intra-day force increases probabilities of producing winning trades.
Stay Focused…Non-Biased…Disciplined  ALWAYS USE STOPS!
Good Trading…David
Habitude Six
I am at peace with uncertainty. I know there is no such thing as a sure thing. I have no particular need to be right. I understand that being perfect has no place in trading. I am flexible. I am willing to change my mind. I am alert to scenario changes. I accept the information that tells me I am on the right track or on the wrong track.