Sellers remained dominant throughout Wednesday's trade session as several attempts to push price higher was rejected with responsive "sell programs". The Open Range Marker at 2039.25 was a formidable resistance level all-day. Market on Close sell imbalance of $850M acted to settle price in lower quartile of day's range.
Thursday is the first day of E-mini Contract Rollover…Front Month is now June "M" so volumes will be split between contract months. So adjust your charting and execution platforms as necessary.
***Thursday PTG Trading Room will continue to trade March "H" Contract
Today is Cycle Day 1 (CD1)…Normally we would be anticipating price weakness, but with recent steady stream of selling which may continue fulfilling CD1 objectives. We must also be on high alert for a strong "snap-back" price rally should price fail to auction lower.
Odds of Decline > 10 = 71%; Odds of Decline > 20 = 41%; Average Range on CD1 = 18.75; Max Average Range = 22.00; Possible High = 2064 based upon average penetration of CD3 high; Possible Low = 2026 based upon average violation of CD3 low.
***Note: The odds highlighted are NOT predictions or trade recommendations, rather a guide based upon historical observed occurrences.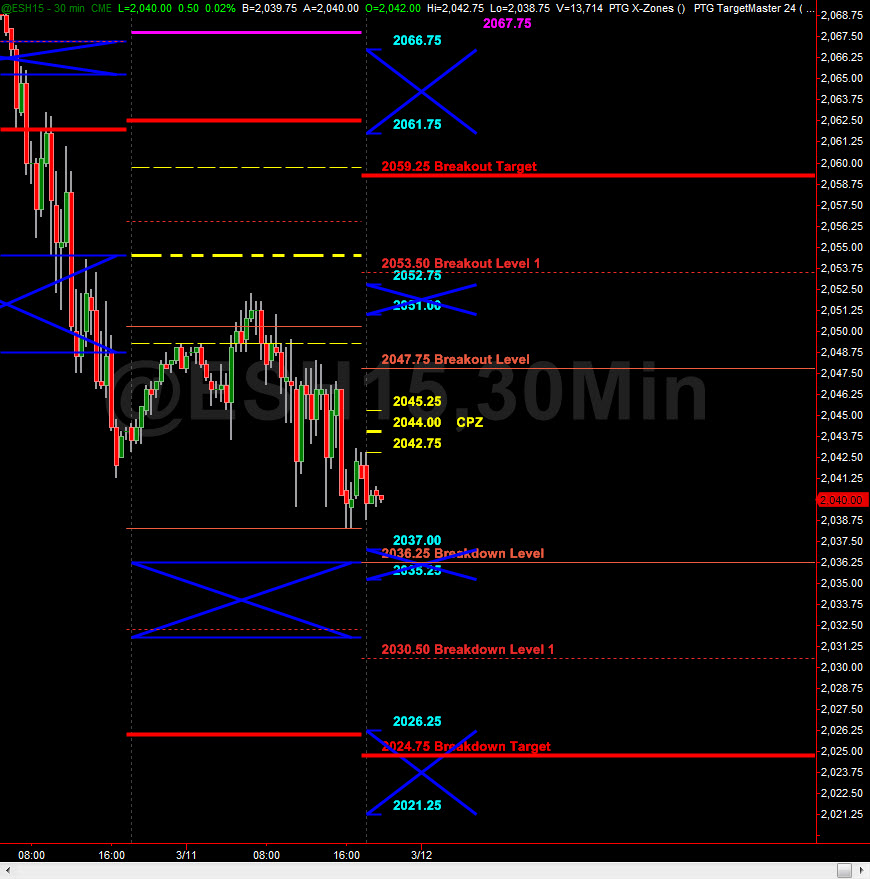 Today's Hypotheses: March "H" Contract
Scenario 1:  IF Price holds above PDL (2038.25), THEN there is a 45% chance of testing 2052.25. Clearing and converting this level increases odds (65%) of further strength targeting 2059.25 – 2060.75 zone. Above this zone measures 2064 – 2066.75 STATX Zone.
Scenario 2: IF Price violates and converts PDL (2038.25), THEN odds (50%) favor probing lower to 2035.50 – 2033.00 Money Box Zone. Below this zone measures range extremes between 2030 – 2026 handles.
Trade Strategy: Our tactical trade strategy will simply remain unaltered…We'll be flexible to trade both long and short side from Decision Pivot Levels. Continue to focus on Bull/Bear Stackers and Premium/Discounts. As always, remaining in alignment with dominant intra-day force increases probabilities of producing winning trades.
Stay Focused…Non-Biased…Disciplined  ALWAYS USE STOPS!
Good Trading…David
Habitude Nine
I will identify my mistakes and learn from them. I am optimistic, realistic and honest. I will not make up stories about the good or bad things that occurred in the past or are happening now. I admit when something is not working. My optimism gives me faith and courage. I will not fall prey to blame and fear.