Price rallied sharply (+28.25 handles) from deep oversold conditions in Thursday's trade session to close near high of day. We knew there were good odds to rally if the prior day low was not violated, which it wasn't. Yesterday was also Cycle Day 1 which projected a rally with potential to meet or exceed the maximum average range of 22 handles.
*****Today's Report Numbers will reflect the June (M) Contract.
Today is Cycle Day 2 (CD2)…Having reached or exceed projected range targets on CD1, today may see some "back n fill" to absorb part of prior day's price gains.
Odds of Rally > 10 = 83%; Odds of Rally > 20 = 44%; Average Range on CD2 = 14.50; Max Average Range = 22.50; Possible High = 2067 based upon penetration of CD1 high; Possible Low = 2044 based upon average range on CD2.
***Note: The odds highlighted are NOT predictions or trade recommendations, rather a guide based upon historical observed occurrences.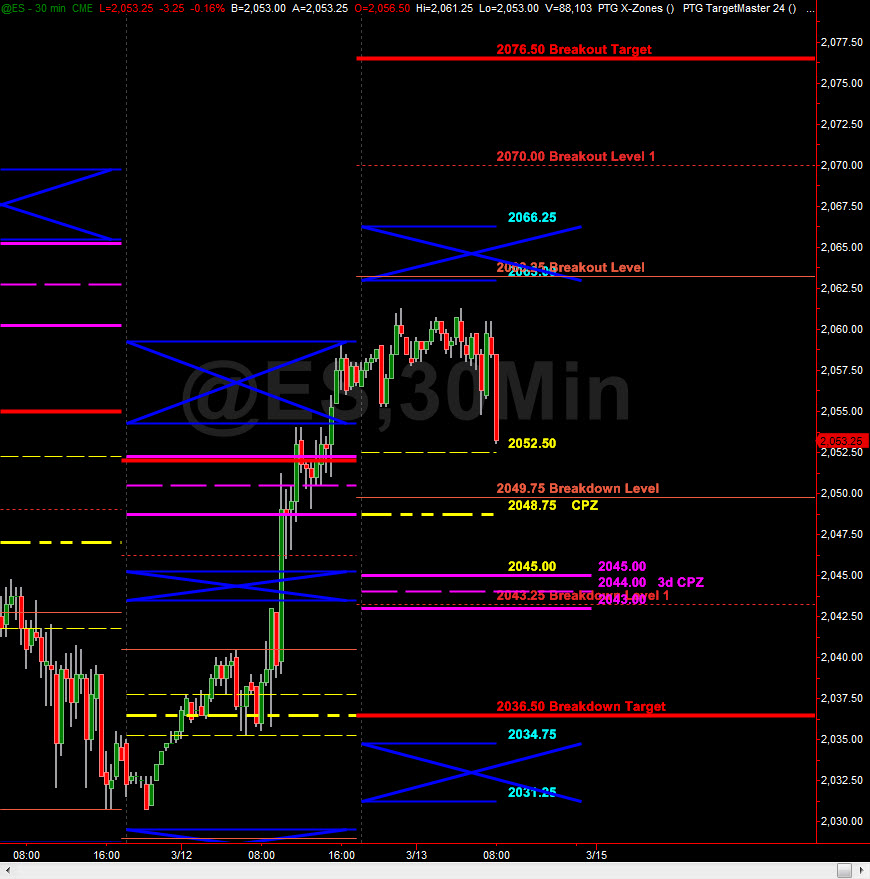 Today's Hypotheses: June (M) Contract
Scenario 1: IF Price Clears & Converts PDH (2059.00), THEN there is a 60% chance of extending up to 2062.50 – 2066.50 STAT X Zone.
Scenario 2: Failure to convert PDH (2059.00) suggest the need to pullback into prior range to probe for renewed buy response. Levels to be mindful of for support are: 2048.7 CPZ, followed by 2045 – 2043 3D CPZ. Below this zone targets a full retracement of prior range down to 2036.60 – 2030.75.
Trade Strategy: Our tactical trade strategy will simply remain unaltered…We'll be flexible to trade both long and short side from Decision Pivot Levels. Continue to focus on Bull/Bear Stackers and Premium/Discounts. As always, remaining in alignment with dominant intra-day force increases probabilities of producing winning trades.
Stay Focused…Non-Biased…Disciplined  ALWAYS USE STOPS!
Good Trading…David
Habitude Ten
I know anything can happen, and I can handle anything that does happen. I am open minded. My thoughts and perceptions are clear. I know what to look for. I have rehearsed everything. I adapt to change. I will listen to my indicators and the patterns that emerge. I will adjust and not demand that things continue as they first started.