The "Main Event" this week will be FOMC Meeting Announcement and Forecast regarding Interest Rate Policy. The key word markets will be focusing on will be "patient" within the forecast language. Employment Reports trend continues to show broad growth and as such, markets have now begun discounting increased potential for first rate hike as early as June. Should the FED maintain current language, markets would be expected to rally strongly.
In Friday's Session prices pulled back to test the Cycle Day 1 (CD1) Low having satisfied the maximum average range (22.50) observed on Cycle Day 2 (CD2). In overnight trade, price is currently higher by 8 handles. Having successfully tested cycle low, the current upswing has potential to reach upper Cycle Price Target 2056.25.
Today is Cycle Day 3 (CD3)…Odds of 3D Rally > 10 = 82%; Odds of 3D Rally > 20 = 54%; Average Range on CD3 = 17.75; Max Average Range = 21.50; Possible High = 2073 based upon penetration of CD2 high; Possible Low = 2121.50 based upon violation of CD2 low.
***Note: The odds highlighted are NOT predictions or trade recommendations, rather a guide based upon historical observed occurrences.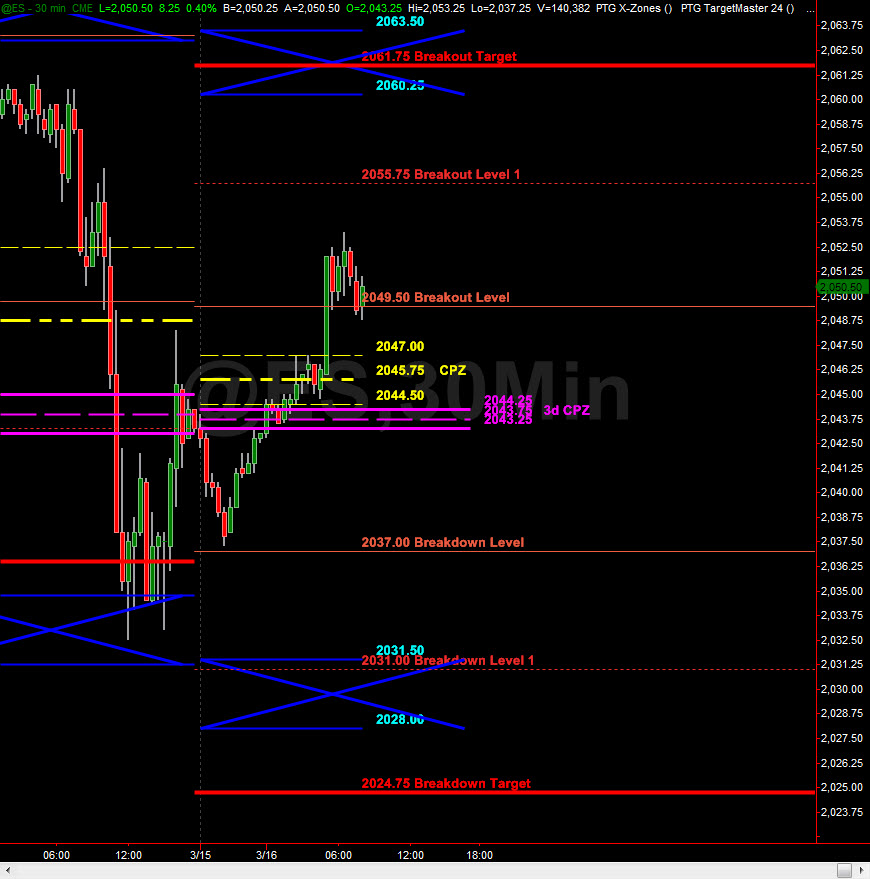 Today's Hypotheses: June (M) Contract
Scenario 1: IF Price can maintain bid above the PDL (2032.50), THEN odds (54%) favor of making a high up to 2161.75. Above this level is range expansion targeting 2069.00, then 2073.00.
Scenario 2: Initial resistance is marked at 2052 handle…Failure to clear and convert this level keeps price within a very wide trading zone. Balance Zone is located between 2043 – 2047. Violation of lower edge of zone targets 2037, then back down to cycle lows 2032.50 – 2030.75.
Trade Strategy: Our tactical trade strategy will simply remain unaltered…We'll be flexible to trade both long and short side from Decision Pivot Levels. Continue to focus on Bull/Bear Stackers and Premium/Discounts. As always, remaining in alignment with dominant intra-day force increases probabilities of producing winning trades.
Stay Focused…Non-Biased…Disciplined  ALWAYS USE STOPS!
Good Trading…David
Habitude Eleven
I am courageous and I always act, even in the face of uncertainty and possible loss. Do not say, no fear. Feel the fear and act anyway. I may be frightened, but I still saddle up. I am not reckless. I act promptly in accordance with my methodology. I respect my calculations. I have a healthy respect and I balance that respect with my courage. I am an explorer. I am on a hero's journey.