S&P collapsed under it's own pressure as key support 2078 handle was violated settling near FED Day Low. Overnight trade continued to push price lower to TargetMaster Breakdown Level 2038, with deep extreme near March 12th pivot low.This recent price action deals a significant blow to the bullish case since the Fed has indicated their willingness to raise interest rates, effectively self-hand cuffing and letting the Markets stand on their own. Are They Ready and Able?
Today is Cycle Day 2 (CD2)…Having closed on lows, price momentum should push price lower to violation levels before any rally attempt. Odds of Rally > 20 = 83%; Odds of Rally > 20 = 43%; Average Range = 14.50; Max Average Range = 22.50; Possible High = 2079.25 based upon average rally; Possible Low = 2037.50 based upon average violation of CD1 low.
***Note: The odds highlighted are NOT predictions or trade recommendations, rather a guide based upon historical observed occurrences.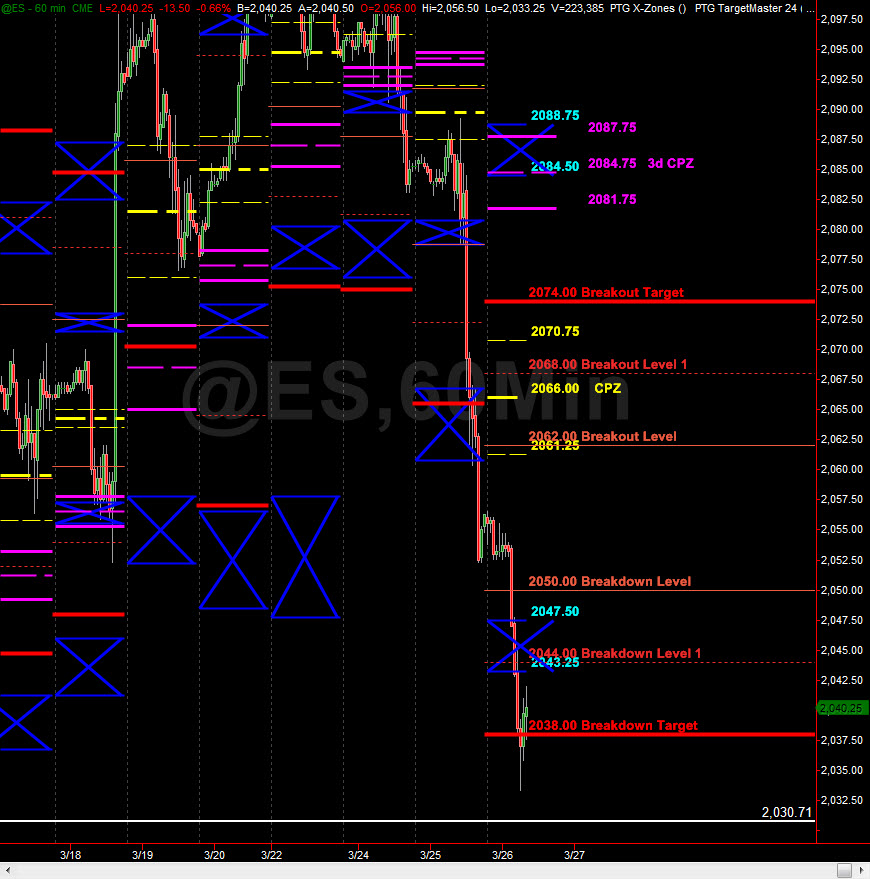 Today's Hypotheses: June (M) Contract
Scenario 1: Price has reached lower violation levels 2038.00…Price will need to hold this level during pit session for any recovery attempt to unfold. There are favorable odds (70%) of rally between 10 – 20 handles should no further significant weakness occur. Upside retracement targets 2055.75 which equals the max average range measured from overnight low. Above this level targets Central Pivot 2066.00.
Scenario 2: Violation of PDL (2052.25) targets 2041.26 – 2038 TargetMaster Breakdown level. Price has reached this level during overnight trade..IF price violates overnight lows with increased selling pressure, THEN extreme downside targets 2028, 2023 then 2019 STAT-X Zone.
Trade Strategy: Our tactical trade strategy will simply remain unaltered…We'll be flexible to trade both long and short side from Decision Pivot Levels. Continue to focus on Bull/Bear Stackers and Premium/Discounts. As always, remaining in alignment with dominant intra-day force increases probabilities of producing winning trades.
Stay Focused…Non-Biased…Disciplined  ALWAYS USE STOPS!
Good Trading…David
"Knowing is not enough, We must APPLY. Willing is not enough, We must DO. – Bruce Lee