Price action oscillates from periods of compression to periods of expansion…Last weeks action began as expansion and ended as compression…Overnight trade has expanded upwards, currently by +10 handles testing the 2065 – 68. NOTE: 2068.75 represents the 5-Day Volume Trend (VWAP).
Today begins a new Cycle Day 1 (CD1)…The low was established early in in overnight trade, with "Key Cycle Low" marked at PL (2041)…Cycle Targets has already been achieved at 2068.50, so today we will be looking for price to hold above PH (2057.75).
Odds of Decline > 10 = 71%; Odds of Decline > 20 = 41%; Average Range = 18.75; Max Average Range = 22.00; Possible High = 2069.50; Possible Low = 2027.50.
***Note: The odds highlighted are NOT predictions or trade recommendations, rather a guide based upon historical observed occurrences.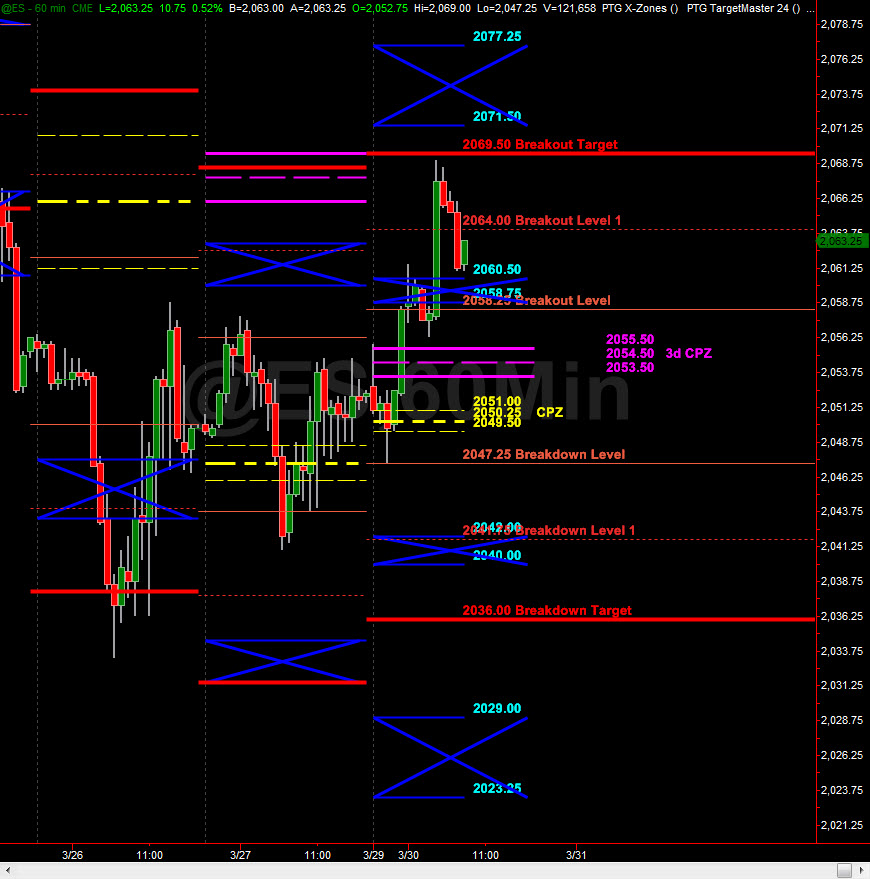 Today's Hypotheses: June (M) Contract
Scenario 1: Price has already achieved bullish cycle targets (2068.50) in overnight trade. Expectation for today will be for price to hold above PH (2057.75) to keep upside momentum intact. Any pullback during Pit Session should find responsive buyers within the 3D CPZ (2055.50 – -2053.50). Upper STAT-X Zone measures between 2071.50 – 2077.25.
Scenario 2: Failure to hold above PH (2057.75) suggests some pullback to find responsive buyers within the 3D CPZ …Violation below this zone warrants deeper corrective price action targeting PL (2041.00). Violation and conversion below this level measures TargetMaster Breakdown Level 2036.00, with Range Xtreme between 2030.50 – 2027.50.
Trade Strategy: Our tactical trade strategy will simply remain unaltered…We'll be flexible to trade both long and short side from Decision Pivot Levels. Continue to focus on Bull/Bear Stackers and Premium/Discounts. As always, remaining in alignment with dominant intra-day force increases probabilities of producing winning trades.
Stay Focused…Non-Biased…Disciplined  ALWAYS USE STOPS!
Good Trading…David
"Knowing is not enough, We must APPLY. Willing is not enough, We must DO. – Bruce Lee