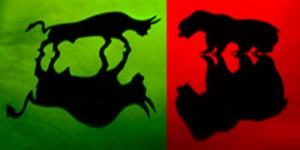 Despite Russell 2000 under performance, Nasdaq recent weakness; Dow Jones eked out a new high, as Large Cap dividend paying value stocks have been supportive on recent pullback. Remember that the S&P 500 is the broadest measure of stocks, which include multiple Sectors and Industry Groups which have different relative performance values throughout the Market and Business Cycles. There are many pundits that continue to make sensationalizing "market calls" for another "flash-type" crash;  the empirical price evidence simply does not agree. Price action during January – April period can be characterized as consolidation within larger bullish structure…Big Money continues to find pockets of value during this rotational shift within industry groups. Stay The Course.
April trading is in the books with price trading in the upper quartile of monthly range…bullish development. It will take a move below 1843 handle to foster a negative shift in the underlying market dynamics. Key support marker on a closing basis becomes 1860 handle…maintain vigilance on this level.
Overnight trade is relatively light  and narrow…We are cautious bulls at current levels as price is testing prior pivot resistance marked on April 24th. IF price can manage to penetrate and convert this zone, THEN upside targets 1882.25 – 1885.75 zone, with upper extremes measuring 1888.10 – 1890.50.
Failure to convert Prior Day High (PDH) 1880.25 suggests pullback into recent range with initial support 1872 – 74 zone, with stronger support at Three-Day Central Pivot Zone (3D CPZ) between 1865 – 1868 zone.
Remain Focused…ALWAYS USE STOPS!
Good Trading…David
Habitude Seven
I take the long term view. I am willing to lose in the short term. I understand that losses are a necessary cost of doing business, like inventory to a merchant. Drawdowns are viewed as temporary. I realize that my wins and winning periods are part of the broad process. Each trade is but one in a string of trades. What is happening now is one piece of a much larger puzzle. Because of this I do not get overly euphoric or despondent.